Canines are essential partners of the law enforcement no matter which country it is.  They sniff out contrabands, hunt down offenders, and defend their human companions.
Retrievers, Dobermans, and German Shepherds usually top the list in helping out K–9 officers.  These breeds make perfect police dogs because of their hunting and distinctive sense of smell among others.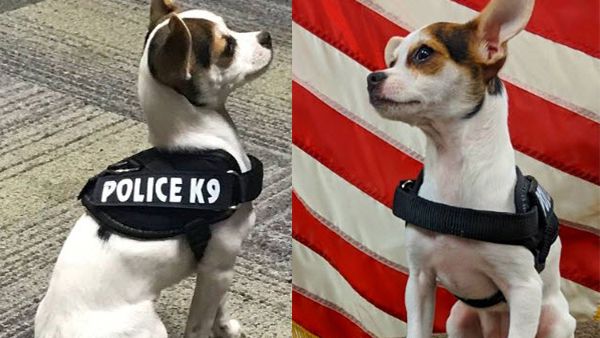 Photo Credits WLWT News
But a small town's police department has an unusual K–9.  On duty is a 4–month–old Chihuahua mix, Zorro.  Yes, that's right!  Who would have thought a Chihuahua will be riding a police car?
Chief Casey Joy of the Marblehead Police Department in Ohio found the 4–pounder pooch in Petfinder.  He was inspired to adopt and fell in love with Zorro after Hurricane Florence caused animals to be displaced.
Only a few days after Chief Joy took the little guy home, Zorro was already on the job.  He rides around in a patrol car and is certainly turning heads with his style.
When on patrol, he sits on a tiny bag on the passenger seat and he even has a small safety belt which he is clicked in to for his safety.  A resident also gifted him with his own K–9 vest which he wears every day at work.
Although Zorro is not a certified K–9 officer, he goes to work daily with Chief Joy.  He was welcomed as one of the department's member and was even sworn as the village mascot at the meeting held by the associates of the Village Council.
On top of his daily patrols, Zorro is also expected to become a therapy dog after his training.  The chief said that the ultimate goal for the pup is to be able to provide help in the community by visiting hospitals and nursing homes.
Chief Joy said, "When Zorro has his vest on, he's all up for business and can be a little reserved.  But when he's off duty, he's just a playful pooch who loves treats and attention."
Zorro is simply the Chihuahua he is, a tiny dog with a big personality.